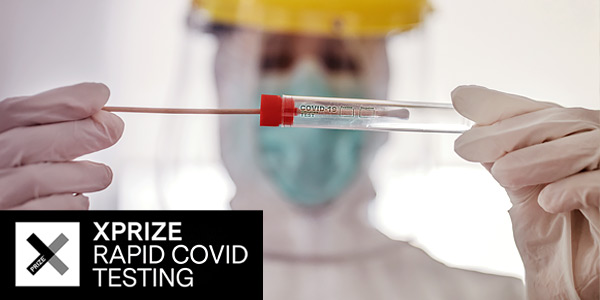 Stanford Microfluidics Lab + Purigen Biosystems Selected as Finalist for XPRIZE Rapid Covid Testing Competition
On December 22, 2020, XPRIZE, the world's leading competition organizer in solving humanity's challenges selected the Stanford Microfluidics Lab + Purigen Biosystems Team as one the 20 finalists for the $6 million XPRIZE Rapid Covid Testing competition. In its pursuit to finding faster, newer, cheaper, and more efficient methods for COVID-19 testing, the XPRIZE competition challenges conventional systems and techniques to single out novel, untapped technologies that may help transform the current testing landscape. As one of the 20 finalists selected, the Stanford + Purigen Team combines Purigen's Ionic® Purification System with a CRISPR-based detection method to identify amplicons associated with the SARS-CoV-2 genome for enhanced specificity. Being selected as a finalist among a long list of 219 qualified teams is a testament to how this new RNA purification method is beginning to impact the scientific world.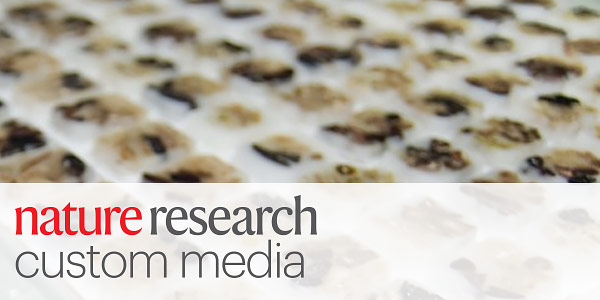 Searching the world's biobanks for cancer's weak spots
Analysis of preserved clinical samples could reveal cancer's vulnerabilities. More efficient and reliable DNA and RNA extraction is critical for speeding the hunt.
Patricia Basta does not want to disappoint her colleagues. Cancer researchers approach her regularly for help obtaining nucleic acids from preserved tissue. One might want DNA from breast tumours for a genetic study of treatment failures. Another might want to analyze DNA methylation profiles in brain tumours to understand epigenetic changes as tumours progress and are treated...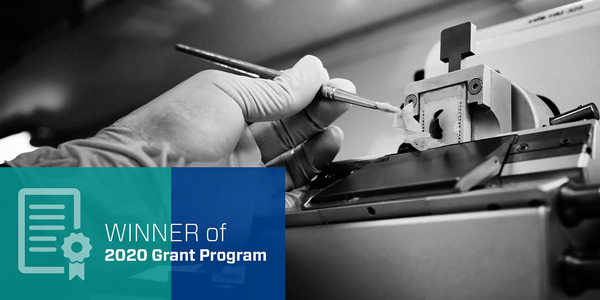 Dr. Nirasha Ramchurren with Fred Hutchinson Cancer Research Center Wins Purigen's 2020 Grant Program
FEATURED UPCOMING WEBINAR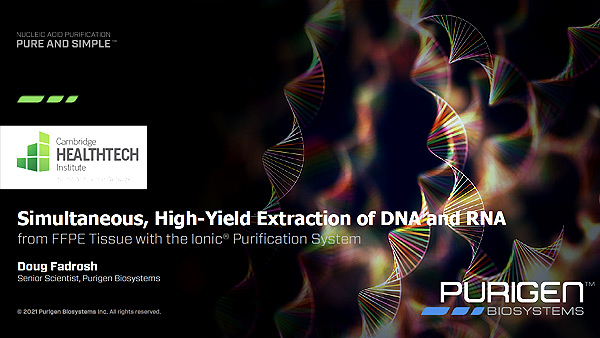 WEBINAR on Cambridge Healthtech Institute
Simultaneous, High-Yield Extraction of DNA and RNA from FFPE Tissue
Purigen Biosystems has recently launched the revolutionary Ionic Purification System and Kits to recover more RNA and DNA from FFPE samples with a simple, automated approach using isotachophoresis. The new Ionic FFPE Complete Purification Kit combines the benefits of the RNA and DNA extraction kits for FFPE samples into a single workflow with minimal hands-on time.
Doug Fadrosh | Senior Scientist, Purigen Biosystems
Dr. Sankar Mohan | Director of Operations, Canopy Biosciences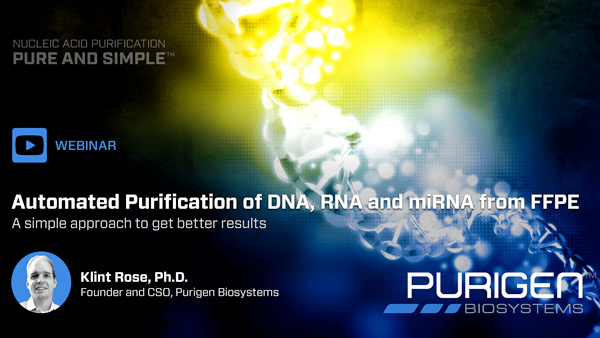 Automated Purification of DNA, RNA and miRNA from FFPE Tissue
Researchers and clinicians continue to be challenged by FFPE tissue samples with a low abundance of high-quality nucleic acid. FFPE samples frequently fail to produce DNA or RNA with sufficient yield or quality for downstream analyses when conventional extraction methods are used...
Klint Rose, Ph.D. | Founder/CSO, Purigen Biosystems
FOR RESEARCH USE ONLY. Not for use in diagnostic procedures.
© 2021 Purigen Biosystems, Inc. All rights reserved.
The Purigen logo, "Nucleic Acid Purification – Pure and Simple, and Ionic are registered trademarrks of Purigen Biosystems in the U.S.
This is a marketing email from Purigen Biosystems, Inc., 5700 Stoneridge Dr., Suite 100, Pleasanton, CA 94588 USA.