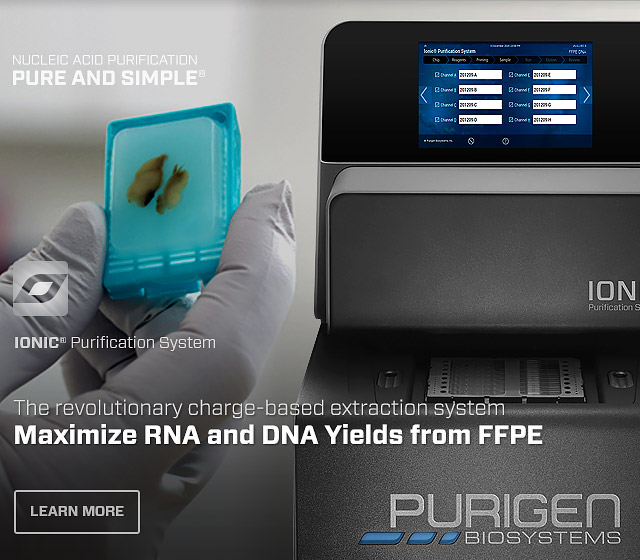 Get the Most Out of Your FFPE Samples
Isotachophoresis, the next-gen charge-based extraction technology
The Ionic® Purification System is an automated bench-top instrument that maximizes nucleic acid recovery from precious FFPE samples. Using a cutting-edge technology based on isotachophoresis, the Ionic system separates nucleic acids freely in solution, without binding to or stripping nucleic acid from physical surfaces. The result is higher yields of pure, intact, nucleic acids with less fragmentation and free from contamination.
Higher Yields of Higher Quality RNA and DNA for Better Data


Up to 3.5x more DNA and 2x more RNA from FFPE samples
Less than 5-mins of Hands-on Time per Sample

One Step Lysis
lyse, de-paraffinize, de-crosslink
No micro-dissection
No harsh chemicals
Fewer manual steps
Ionic® Purification System
simple, automated, charge-based
No physical binding
No wash cycles
No elution
PURIGEN PROOF-OF-PERFORMANCE (POP) PROGRAM
Our POP Program is designed to help researchers compare the performance of our Ionic Purification System to their current methods for nucleic acid extraction. Simply tell us your requirements and send us your samples and we'll do the rest.
ISOTACHOPHORESIS TECHNOLOGY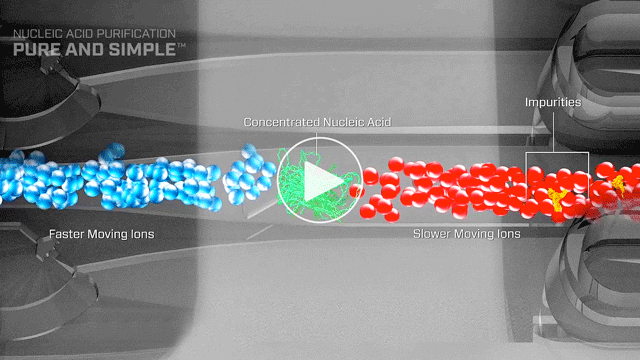 Isotachophoresis extracts, purifies, and concentrates nucleic acids solely based on their electrophoretic mobility. With no binding to, or stripping from fixed surfaces, the nucleic acids remain in their native form, not denatured or dehydrated. The results are higher yields, higher quality, and better data.
FOR RESEARCH USE ONLY. Not for use in diagnostic procedures.
© 2021 Purigen Biosystems, Inc. All rights reserved.
The Purigen logo, "Nucleic Acid Purification – Pure and Simple," and Ionic are registered trademarks of Purigen Biosystems in the U.S.
This is a marketing email from Purigen Biosystems, Inc., 5700 Stoneridge Dr., Suite 100, Pleasanton, CA 94588 USA.